Refrigeration | Freezing technology reaches cells! Advancing low-temperature world 
Nissin Refrigeration & Engineering Ltd. Product information

 NISSIN is highly trusted as a pioneer in freezing and refrigerating equipment. Our ship freezing and refrigeration equipment has been employed on a large number of ships, including bonito pole-and-line fishing boats, thereby supporting the distribution of fresh fishes whose freshness needs to be ensured.
Brine cooler unit
 The brine cooler unit has become essential for ships that are required to have precise temperature control within the range of ±0.1°C, such as bonito pole-and-line fishing boats and longline tuna fishing boats.
 The mainstream unit is the "2-brine system," which allows the control of two kinds of brine temperature ranges despite its ultra-compact design.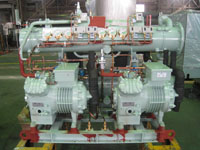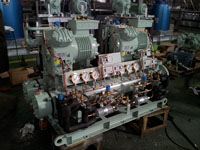 Direct-expansion cold hatch cooling system