Job opportunities
Nissin Refrigeration & Engineering Ltd. Job opportunities
NISSIN Refrigeration & Engineering and our affiliate subsidiaries are recruiting new graduates and mid-career workers.
You are cordially invited to apply with the understanding of the following details of operations.
Operations
We perform a variety of design, manufacture, installation, and maintenance as follows.
- Ship refrigerating/air-conditioning systems
- Ground refrigerating/air-conditioning systems
- Ship LP gas reliquefaction systems
- Ship CO2 gas fire-extinguishing systems
- Vacuum drying equipment, etc. for chemical plants
- Various pressure vessels and heat exchangers
We have also other total engineering operations.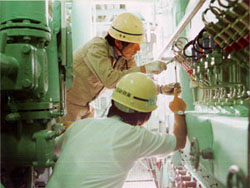 Guidelines for applicants
Age
Basically 35 or younger
 Note that if the candidate is considered as industry-ready judging from the past job experience,
 we will consider the employment of candidates aged up to 50 or so.
 Please send us an inquiry.
Job type
Engineering design, manufacture, installation management, follow-up services
Non-engineering sales, management
Salary
Base salary of new graduates: 205,000 yen (2012)
Allowance for long service, commuting allowance, regional allowance, family allowance, managerial position allowance
Others according to the in-house regulations
Salary raise and bonus
Periodic pay raise 1 time/year, bonus 2 times/year
Welfare programs
Health insurance, welfare pension, employment insurance, dormitory
Employment location
Osaka, Tokyo, Shizuoka, Sapporo, Kushiro, Nemuro, Hakodate, Hachinohe, Kesennuma, Ishinomaki,
Shiogama, Onahama, Niigata, Tateyama, Misaki, Yaizu, Ogi, Ise, Sakaiminato, Kochi, Onomichi, Shimonoseki, Fukuoka, Nagasaki, Usuki, Miyazaki, Makurazaki, Kushikino
Work hours
9:00 to 17:45 (lunch break 45 min)
Holidays
2 days/week (Saturdays and Sundays), other holidays according to the calender, New Year's holiday
Summer vacation, paid holiday, congratulation or condolence leave
Others according to the in-house regulations
Timing of application
Anytime
How to apply
Feel free to contact the General Affairs Department of Nissin Refrigeration & Engineering Ltd.
Phone: +81-6-6394-1171
E-mail: nre-webmaster@nissin-ref.co.jp
Documents to be submitted
C.V. (with photo)
Academic transcript (of the last academic background)
Health certificate
Recruiting companies
Head Office (Osaka Office, Mikuni Factory)
1-12-30 Mikunihommachi, Yodogawa-ku, Osaka 532-0005
Phone: +81-6-6394-1171 Fax: +81-6-6394-1251